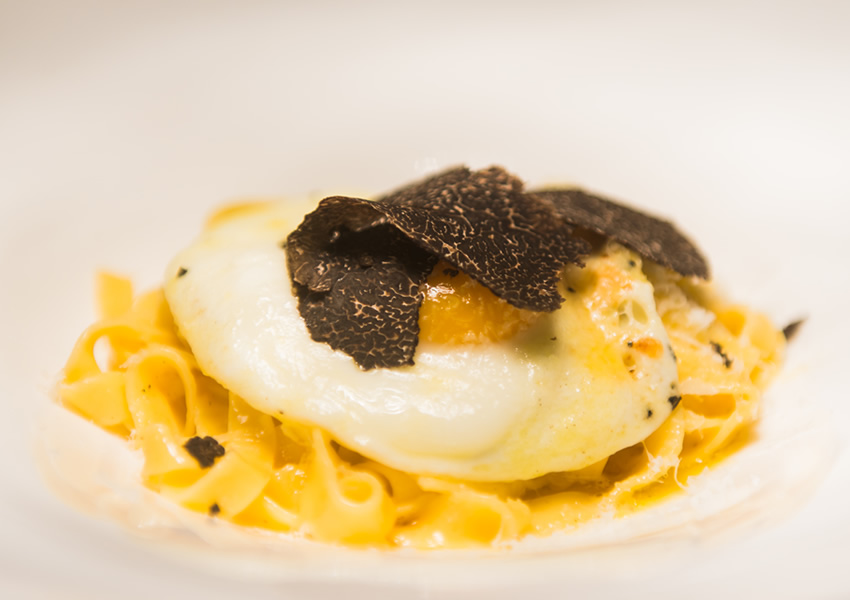 Serves 4
Truffle Butter
Place fresh truffles in an airtight jar with 6 whole eggs for 24 hours.
Shave 6 nice slices of truffle (use a truffle shaver), chop It finely, mix it with 120gm of soft butter and season with salt and pepper, set aside until ready to use.
Pasta Dough
235gm OO pasta flour from Italy
150gm pure fine semolina
220gm egg yolks
Mix ingredients well to form a dough, wrap in plastic rest for 1 hour in fridge. Roll dough through pasta machine until 1mm thickness then roll through the tagliatelle (fettuccini) cutter, dust in semolina and set aside until ready to cook.
White Wine Butter Sauce
100ml white wine
1 tablespoon of lemon juice
200ml cream
250gm soft butter
Pinch sea salt
Reduce wine and lemon juice in a saucepan until nearly evaporated, add cream and reduce down until quite thick (careful not to burn it), whisk in soft butter, season with salt, place in a plastic bottle and keep in a warm place.
Ok we are ready to start, this is the tricky bit! You will need to cook the pasta in boiling salted water for 2 mins and at the same time fry your eggs in the truffle butter. It's very important not to overcook your pasta or the eggs!!
Drain the pasta off in a colander and mix in a stainless steel bowl with the butter sauce and divide evenly into 6 bowls, place 1 fried egg on top (pour the excess truffle butter over each egg) of each serve and grate lots of fresh parmesan (grana Padano) over the top.
Now the best part, take your truffle shaver and shave 4-5 fresh slices of very fine truffle over each serve of pasta, serve immediately!!
Buon Appetito!
Andy