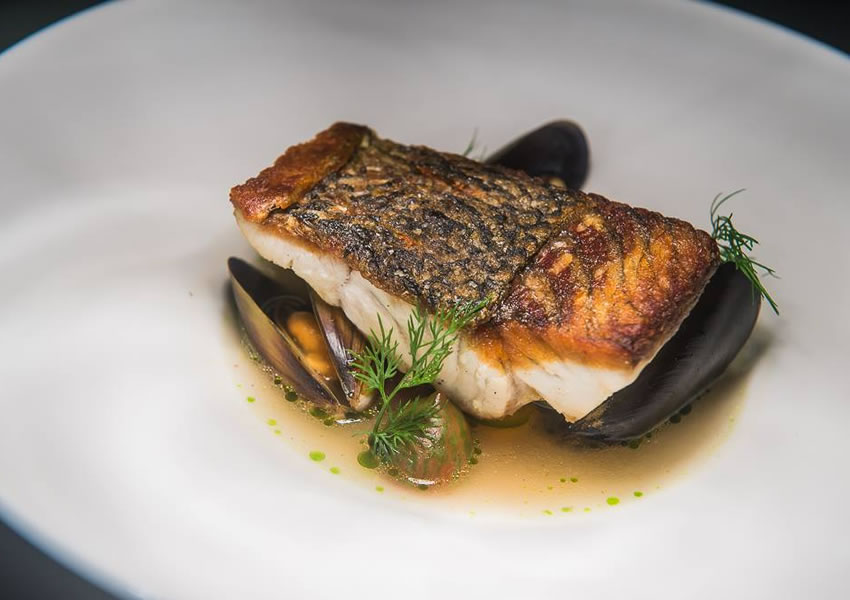 Serves 4
Ingredients:
4 pieces barra fillet, skin on (approx. 180gm)
12 mussels cleaned and de-bearded
1 large head of fennel [shaved] 1 clove of garlic
24 ligurian olives [stone removed] 16 basil leaves
2 tablespoons Sicilian capers
200gm heirloom tomatoes
100ml white wine
50ml soda water
Sea salt
Juice of 1 lemon
100 ml olive oil
Fresh sprigs of dill and small basil leaves to garnish
Method:
Season barra fillets with sea salt & cook skin side down in a non-stick pan with a little olive oil for 2 mins on a high heat. Place in a moderate oven [180c] skin side down for 6 mins until fish is cooked.
In a small pot, add garlic, olive oil, mussels, olives, fennel and heirloom tomatoes with white wine and soda water. Cover with a lid and steam for 2 mins, add basil, lemon & and a little olive oil.
To serve: Divide mussel broth evenly into 4 bowls and place barra on top. Garnish with fresh herbs and serve immediately.
Buon Appetito
Andy